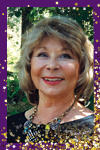 Come celebrate Kathianne Lewis, DD on Sunday, October 21 and her 30 years of leadership as Spiritual Director of Center for Spiritual Living - Seattle.
Our afternoon event begins with a luncheon at 12:30pm, followed by our celebratory program at 1:15 pm, featuring special guests honoring Kathianne, raffles, fantastic music and wonderful company. We invite you to wear bling, cowboy boots, or Goddess-wear... or all three!
RSVP today and join us Sunday, October 21, 12:30-2:45pm for our special Kathianneiversary!
Celebrating the past 30 years as we raise money for a prosperous future.
Please consider a gift to cover costs of this event and contribute to CSL in honor of Kathianne's 30 years of service to our beloved community. Give at a level that feels good to you; $3-$3333 for 3 decades, or $30-$3,000 for 30 years of inspired leadership.
Click to make a gift in honor of Kathianne Lewis.
Silent Auction and Raffle
We are excited to have many wonderful donated items for the Raffle and Silent Auction. Raffle tickets and auction is open to bidders Sunday Oct 7, 14, and 21.
Silent Auction Items
Two Seahawks Club seat tickets (including parking) for November 15th against the Greenbay Packers. These seats are hard to get!

Weekend condo at Ocean shores

A song recording session with our very own Leo Brodie

An acrylic painting by Stephen Gilbert

Wood carving by Leroy Setziol

Weekend at a cabin at Warm Beach

$400 worth of Amazon gifts cards

Three Practitioners sessions with Jeri Hudson, RSCP

An authentic American Flag that was flown over the US Iraqi Headquarters

A private performance by Playback Theater Northwest Improvisational Group with our own Rev Harold Costa
Raffle Items
Dinner Cruise on Lake Union

Art and Photography from Rev. Kathianne Lewis, Bill Ray and Jan Viney"

"Iris" Folded Chiyogami Heart

Family Portrait session with Jeff Meyers

Custom Design for your Home or Garden by Susan Robello

Professional services for Feldenkris, Craniosacral massage, Pilates, Animal Communication, Astrology Natal Chart Reading, Tarot, Dog Boarding and Homeopathy

Tickets for Storybook theater

Emma stone necklace by Joy Abbey-Adams

Science of Mind Core Class Books

Wine baskets, Dog Goodies and Peruvian Ceramic Dish