Sufi Mystics and Poetry - Part 1 Rumi
06/07/2023 06:30 PM - 06/21/2023 08:30 PM PT
Description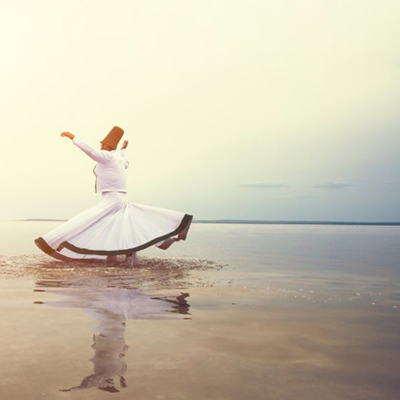 "Sell your cleverness and buy bewilderment." - Rumi
In this two-part class taught by Imam Jamal Rahman, allow yourself to be inspired by the poetry and teachings of Sufi mystics including Rumi, Hafiz, and Rabia. Glean insights and wisdom from these teachings to become more fully human, experience greater joy, and be of authentic service to God's creation.
"God wants to see more laughter and playfulness in your eyes for that is your greatest witness to Divinity." - Hafiz
"In my soul there is a Temple, a Shrine, a Mosque, a Church that dissolve in God" - Rabia
Anyone can benefit from this class on Sufi wisdom, no matter their tradition or spiritual path. This class offers practical spirituality as universal insights and practices which can be applied in daily life. Our goal is to evolve into the fullness of one's being and be of service to God's magnificent creation.
Part 1 focuses on the teachings and poetry of Rumi.
"Open the window of your heart; the Moon will kiss you only through the window." -Rumi
"Come out of Circle of Time and enter the Circle of Love." - Rumi
Part 2
focuses on the teachings and poetry of Hafiz, Rabia and other Sufi mystics.
"God revealed to me a sublime secret. He said, "I am made whole by you! Each soul, each soul, completes Me!" - Hafiz
"I love God so much; I have no time to hate the devil." - Rabia
"So beautiful appeared my death-knowing who then I would kiss; I died a thousand times before I died."- Rabia
Part 1: Rumi
Wednesday, Jun 7-21, 6:30-8:30pm PT
Instructor: Imam Jamal Rahman
Category: World Religions
Location: Zoom (link information will be sent a few days prior to class starting, as well as 5pm each class evening)
Cost: $75 until 8 pm 6/4, $90 after
Imam Jamal Rahman
is a popular speaker on Islam, Sufi spirituality and interfaith relations. Along with his Interfaith Amigos, he has been featured in the New York Times, on CBS News, the BBC and various NPR programs. Co-founder and Muslim Sufi minister at Interfaith Community Sanctuary and adjunct faculty at Seattle University, he is a former host of Interfaith Talk Radio and travels nationally and internationally, presenting at conferences, retreats and workshops.
Jamal's passion lies in interfaith community building. He remains rooted in his Islamic tradition but cultivates 'spaciousness' by being open to the beauty and wisdom of other faiths. Through the process of an authentic and appreciative understanding of other paths, Jamal feels that he is becoming a better Muslim. This spaciousness is not about conversion, but about completion. Jamal has an abiding faith in the power of heart to heart connections to encompass differences and dissolve prejudices.
http://interfaithcommunitysanctuary.org/