The Art of Abundance Connection Circles
10/02/2022 12:30 PM - 10/30/2022 07:00 PM PT
Description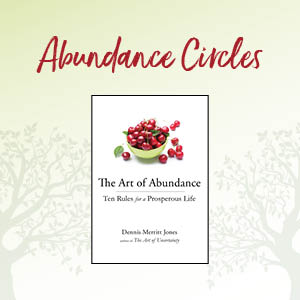 The Art of Abundance by Dennis Merritt Jones
What really gives meaning to life? How has your consciousness been shaped by your parents and society?
Do you feel like your energy is blocked? Would you like to experience more flow? Are you taking your blessings for granted?
Join us Sunday afternoons for in-depth discussion circles on The Art of Abundance by Dennis Merritt Jones. Abundance Circles are a drop-in offering, sponsored by our community groups.
You are invited to join us for one or all sessions.
90 Minute Abundance Circles to be held:
Investment: No cost, provided in support of our thriving community.
We are offering two options for your convenience:
In-Person in the Fellowship Hall at 12:30pm-2:00pm PT*
*Circles will be facilitated by community group members, with light snacks provided
.
Registration is encouraged, but drop-ins welcome.
Online via Zoom at 5:30-7:00pm PT/6:30-8:00pm MT/7:30-9:00pm CT/8:30-10:00pm ET**
**Dennis Merritt Jones, the author of The Art of Abundance will
be joining the online abundance circles for 10-20 minutes on
10/2 and 10/30.