Lessons in Living a Thriving Life - Attitudes of Gratitude
11/28/2021 05:30 PM - 06:15 PM PT
Description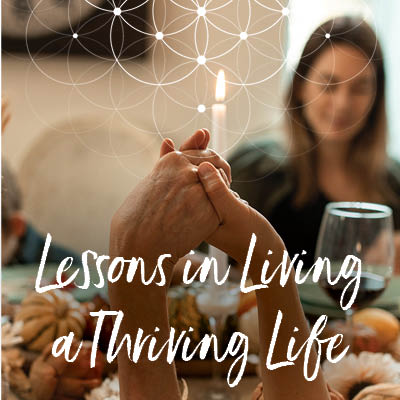 If your intention is to thrive in the world, in your personal and professional life, and live a life filled with purpose, then join us in our online Sunday evening experience. Explore the metaphysical teachings on the nature of reality. In these 45 minutes of interactive zoom experience, you'll delve into lessons from some of the greatest metaphysicians, reflecting on own your own beliefs and actions and how they impact your mind, body, spirit, and community.
Connect via Zoom https://zoom.us/j/408613854.
Lessons in Living a Thriving Life: Attitudes of Gratitude by M.J. Ryan
Sundays, Nov 7-28, 5:30-6:15pm PT
Are you interested in expanding joy in your life? Join in this Sunday Evening Experience and discover amazing gratitude benefits. Gratitude is a simple, profound practice that can change your life. Research has confirmed its many emotional and physical benefits. If you are looking for a tool that opens hearts, creates happiness, and restores you to a natural place where you notice what's right instead of wrong, you've come to the right place!
"Gratitude births only positive feelings―love, compassion, joy, and hope. As we focus on what we are thankful for, fear, anger, and bitterness simply melt away, seemingly without effort." -M. J. Ryan
In a series of brief, evocative essays, Ryan teaches us how to unlock the fullness of life through the simple joy of living from a grateful heart. In this gratitude book, you will find:
Essays on a variety of topics that are perfect for gratitude meditation
Encouragement to begin practicing, commit to, and celebrate gratitude
A variety of ways to practice gratitude in your own life.
It is not necessary to read the book to participate in the discussion. All are welcome!
Here's what we'll be exploring each week:
Nov 28
Chapter 4 and 5: The Practices of Gratitude and The Deepening Journey
Are you willing to look at what's showing up and embrace it? We'll be exploring how to look for the hidden blessings of difficult situations and to live every day as if it's your last. We'll end our time together looking at the top ways to bring gratefulness into your life and how to create habits that incorporate them every day.