GYPSY SOUL Holiday Concert
Dec 14, 8pm, Celebration Hall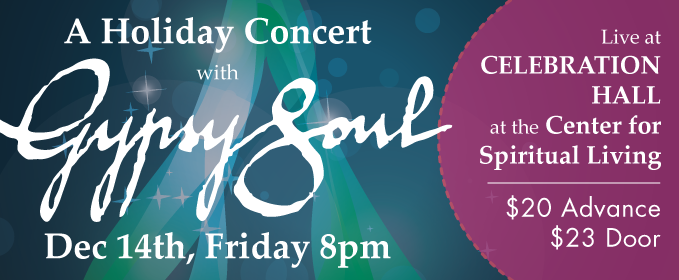 "The music of Gypsy Soul is a conversation with God" - Neale Donald Walsh
Come and celebrate the Holiday Season with Gypsy Soul's unique arrangements of holiday favorites as well as their new original material from the upcoming CD entitled,"The World Is My Country." Roman and Cilette will be joined by special guest musicians, Traci Hoveskeland on cello and John Stout on percussion and drums.
Refreshments available for purchase before the concert and during intermission: Wine, mulled cider and goodies.
Tickets:
Online advance purchase - Click here! or visit GypsySoul.com
or stop by the CSL bookstore (Suns: 8:30 - 1pm / Weds: 5:30 - 8:30pm)
WATCH "WHO" by Gypsy Soul
About Gypsy Soul
Searching for a musical soul mate, Canadian singer and lyricist, Cilette Swann, traveled to Europe chasing her Celtic roots. After a few years singing in Paris in French jazz clubs, her quest took her to Edinburgh, Scotland where she met world-class musician and producer, Roman Morykit.
After 20 years of marriage and a prolific musical partnership, the duo has recorded eleven CDs and one live concert DVD from Triple Door in Seattle, WA. With half a million miles and countless unforgettable performances in the US and Abroad under their belts, these esteemed performers have sold over 120,000 CDs on their own label, Off The Beaten Track Recordings.
Besides their 1.5 million downloads, Gypsy Soul's music has aired over 100 times in films and TV shows including Providence, Felicity, Roswell and others. They've won numerous artist and songwriting awards including: Lilith Fair, Just Plain Folks and The IMAs. With over 60 Critic's Choice features in papers nationwide, it's no surprise most of Gypsy Soul's performances are sold-out. They've earned a Top 40 A/C with their song, Silent Tears as well charting success on Folk and New Age. Most recently, their music aired in many European countries including the BBC in the UK, Ireland, France, Sweden, The Netherlands, Italy and numerous other countries.
"The music of Gypsy Soul IS a conversation with God." - NEALE DONALD WALSCH "Four Stars." - ALL MUSIC GUIDE "Gourmet Music!" – KLOS RADIO
"Cilette Swann's voice is haunting and Roman Morykit's musicianship is superb. Their music stirs the soul and moves the spirit." - Monica Rizzo, PEOPLE MAGAZINE
"Swann possesses a versatile, intense and expression-filled singing voice. Roman is an accomplished musician…his mixing and production on this set is totally top drawer." MAVERICK - UK
For Songs and More info: http://www.GypsySoul.com and For Live Concert Footage: "WHO": http://tinyurl.com/9d77rou • "BE THE CHANGE": http://tinyurl.com/9dpbwqy
Click for All Holiday Services and Events!